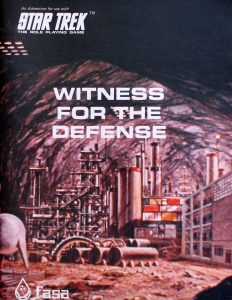 Format:
Paperback
Language:
English
Published by:
FASA Corporation
On The Cover:
ISBN-13: 978-0931787126
Length: 40
Published On: 1983-01-01
Buy on Amazon.com
Buy On BarnsAndNoble.com
Buy On Bookshop.com
Buy On Books-A-Million.com
Wikipedia.org
Find on E-Bay
The crew of the Enterprise returns to Janus VI, scene of their adventure with the Horta ("The Devil in the Dark"), and finds tragedy. A young miner stands accused of murder and genocide. Will he be convicted by the swift justice of the final frontier, or can Captain Kirk, Mr. Spock and Dr. McCoy find evidence to clear him? And if they do, where is the real killer, and will he strike again — bringing disaster to the mining colony of Janus VI?
This adventure scenario for STAR TREK: The Role Playing Game contains everything a gamemaster needs to recreate the mystery and excitement of murder on Janus VI. This booklet is designed for use in campaigns featuring the U.S.S. Enterprise crew, and includes complete maps and floor plans for the Janus VI pergium processing facility, which can also be used in later adventures.