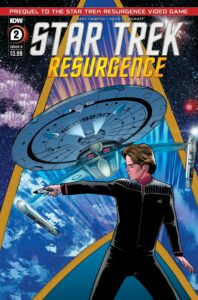 Format:
Comic Book (Single Issue)
Language:
English
Published by:
IDW
Diamond Distributing Code:
SEP221723
Published On: 2022-12-14
MSRP: $$3.99 USD
Buy on Amazon.com
Find on E-Bay
After discovering the Talarians are being commanded by no stranger to Federation archives, Captain Solano and First Officer Sutherland board the suspicious Talarian vessel. But just as hope is within sight, talks of peace are derailed by an aggressive visitor and a shocking revelation. Continue the story in IDW's exclusive five-issue comic prequel to Dramatic Labs' highly anticipated narrative adventure game, Star Trek Resurgence!
Reviews
Other Editions: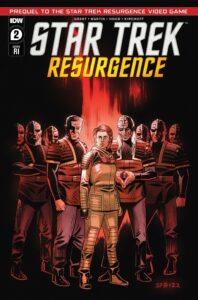 1:10 Incentive Cover

Format:
Comic Book (Single Issue)
Language:
English
Published by:
IDW
Published On: 2022-12-14
MSRP: $$3.99 USD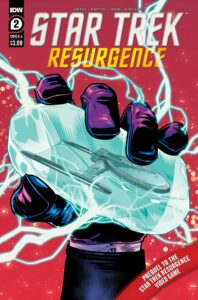 Cover A

Format:
Comic Book (Single Issue)
Language:
English
Published by:
IDW
Diamond Distributing Code:
SEP221722
Published On: 2022-12-14
MSRP: $$3.99 USD