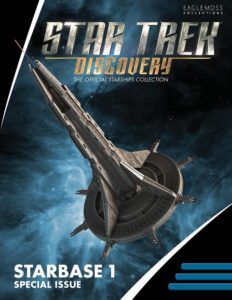 Add To Collection
Format:
Magazine
Language:
English
Published by:
EagleMoss Collections
Length: 16
Published On: 2020-03-11
MSRP: $74.95
Buy on Amazon.com
Find on E-Bay
Celebrate Star Trek Discovery with this detailed Special Edition of Starbase-1 Space Station from our Star Trek Discovery Starships Collection!
Starbase-1 was a Federation space station that was home to over eighty thousand Federation personnel. Located in the far reaches of the Sol System, it was attacked and occupied by the Klingon House of D'Ghor during the Federation-Klingon War.
This fantastic Special Star Trek Discovery die-cast Starbase-1 Space Station recreates the base as seen in the Star Trek: Discovery episode "The War Without, The War Within". The model is hand-painted with intricate detail capturing the tall structure of the base.
Product Features:
Officially-licensed Star Trek merchandise
Affiliation: Federation
Comes with a display stand to display at home or office.
Starbase-1 Space Station model comes with a 16-page full-colour magazine. The magazine includes a profile of the starship, original production art and details of its design evolution.
Sources