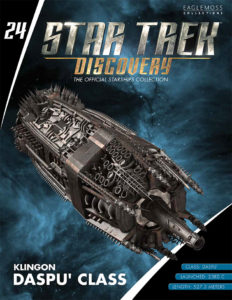 Add To Collection
Format:
Magazine
Language:
English
Published by:
EagleMoss Collections
Length: 16
Published On: 2020-01-30
Buy on Amazon.com
Find on E-Bay
Klingon starships are easily recognizable by their intricate ornate designs, Star Trek Discovery Official Starship Collection features another beautiful Klingon Daspu' Class starship that made its on-screen debut in the Battle of the Binary Stars.
Klingon Daspu' Class starship is a cylindrical vessel of the Klingon fleet that was named after a Klingon "boot spike". It was developed using the parts of the T'Kuvma's sarcophagus ship design. At the final stage of development, the starship was classified as an escort vessel in service to various Great Houses of the Klingon Empire in the 2250s.
This Star Trek die-cast Klingon Daspu' Class starship model recreates the starship as seen in the first season of Star Trek: Discovery. It has a cylindrical shape and is beautifully decorated with the gothic style shapes reminiscent of Gothic Cathedrals.
Klingon Daspu' Class starship comes with a 16-page full-color magazine. The magazine includes a profile of the starship, original production art and details of its design evolution.