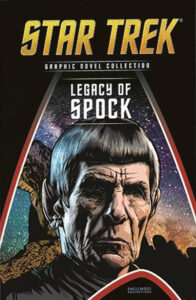 Add To Collection
Format:
Comic Book (Hardcover)
Language:
English
Published by:
EagleMoss Collections
Published On: 2019-09-12
Buy on Amazon.com
Find on E-Bay
IDW's long-running Star Trek comic series set in the Kelvin timeline reaches its poignant conclusion.
Writer Mike Johnson's 60-issue monthly title offered new adventures featuring the U.S.S. Enterprise crew, expanding on concepts and characters featured in the films Star Trek, Star Trek Into Darkness, and Star Trek Beyond.
Johnson's historic series depicted tales both new and reimagined from the alternate crew's five-year mission. This volume presents the final two storylines, including a fitting tribute to the late Leonard Nimoy.