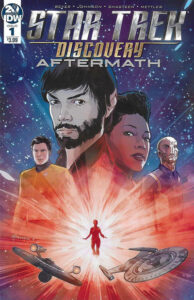 by:
Angel Hernandez


Add To Collection
Format:
Comic Book (Single Issue)
Language:
English
Published by:
IDW Publishing
Diamond Distributing Code:
JUN190730
Length: 32
Published On: 2019-09-04
MSRP: $3.99 USD
Buy on Amazon.com
Find on E-Bay
You saw the stunning conclusion of the second season of Star Trek: Discovery-now witness the Aftermath! After discovering Michael Burnham's personal log, Spock begins to unravel the story of Burnham's journey from orphan to Starfleet officer-and the secret history of the Red Angel as well. But as he confronts the secrets of Burnham's past, he'll also have to grapple with his own. An amazing new Star Trek: Discovery miniseries begins here!
An all-new miniseries tying directly into season two of the hit CBS All Access series!
Discover the secret history of the Red Angel!
Fan-favorite artist Tony Shasteen makes his long-awaited return to Star Trek comics!
Other Editions: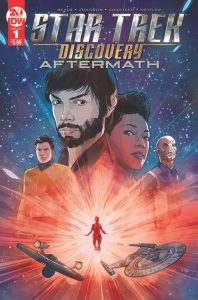 by:
Angel Hernandez


Add To Collection
Format:
Comic Book (Single Issue)
Language:
English
Published by:
IDW Publishing
Diamond Distributing Code:
AUG198003
Published On: 2019-11-06
MSRP: $3.99 USD