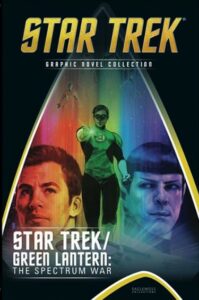 Add To Collection
Format:
Comic Book (Hardcover)
Language:
English
Published by:
EagleMoss Collections
On The Cover:
Buy on Amazon.com
Find on E-Bay
The Star Trek Graphic Novel Collection presents an exciting Star Trek/Green Lantern: The Spectrum War Special where two iconic franchises meet for the first time: the Federation fighting alongside the Green Lantern Corps.
Written by Mike Johnson, a Star Trek veteran, this story brings together the crew of the alternate timeline's Enterprise and the realm of superheroes, with the stunning art of Angel Hernandez.
The U.S.S. Enterprise crew meet the Green Lantern Corps for the first time in an all-new adventure that spans the cosmos! Kirk and Spock make a most unusual discovery on a lost world igniting events that will change the fate of empires! After getting the rings on board, they are attacked by the vengeful Klingon, General Chang.
Rescue comes in an unexpected form – a man in a green suit Hal-Jordan helps out the ship while the rings on the deck come alive to find their bearers in this new timeline. Now, all must unite to defeat the darkness that threatens to swallow up everything.
Sources