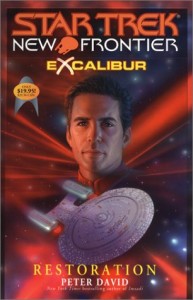 Add To Collection
Format:
Hardcover
Language:
English
Published by:
Pocket Books
ISBN-10: 0671042432
ISBN-13: 978-0671042431
Length: 409
Published On: 2000-11-01
Buy on Amazon.com
Buy On BarnsAndNoble.com
Buy On Bookshop.com
Buy On Books-A-Million.com
Wikipedia.org
Find on E-Bay
From the universe of Star Trek The Next Generation(R) Peter David's bestselling novels of Star Trek: New Frontier have been a genuine publishing phenomenon. Now the series hits a new landmark with the first original hardcover to chronicle the adventures of Captain Mackenzie Calhoun and the valiant crew of the "U.S.S. Excalibur. But the latest chapter begins with the future of Calhoun and his mission very much in doubt…. The "Excalibur has been destroyed, the victim of insidious sabotage. Last seen on board only moments before it was blown to bits, Captain Mackenzie Calhoun was assumed lost with his ship. Now First Officer Elizabeth Shelby has been granted a command of her own, the "U.S.S. Exeter, where she will discover exactly what kind of a captain she is meant to become. But what about Calhoun? Unbeknownst to Starfleet, the resourceful Xenexian officer escaped the cataclysmic demise of the "Excalibur, only to end up marooned on the primitive outback world of Yakaba. There he eventually befriends Shula, a woman with the strange and inexplicable ability to summon rain for her parched and struggling frontier community. Shula's powers, however, have made her the target of jealous and avaricious enemies. They will stop at nothing to seize control of her special gifts — or destroy them forever. Trapped on a hostile world, unable to contact Starfleet or even let Shelby and the others know he is still alive, Calhoun is drawn into a life-or-death struggle against relentless foes. Full of unexpected twists and surprises as only Peter David can devise them, "Restoration is a major turning point in the ongoing saga of "Star Trek: New Frontier.
German Reviews
Sources
Other Editions: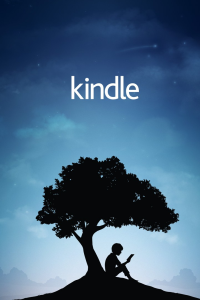 Kindle Edition
Format: Digital Download
Language: English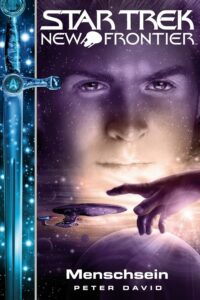 Add To Collection
Format:
Paperback
Language:
German
Published by:
Cross Cult
ISBN-13: 978-3959819404
Length: 360
Published On: 2014-11-10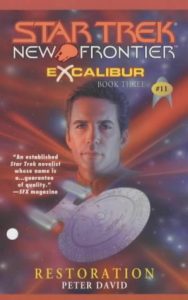 Add To Collection
Format:
Paperback
ISBN-10: 0743410645
ISBN-13: 978-0743410649
Length: 416
Published On: 2001-11-01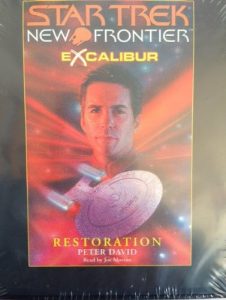 Add To Collection
Format:
Audio Book: CD
ISBN-10: 1589436482
ISBN-13: 978-1589436480