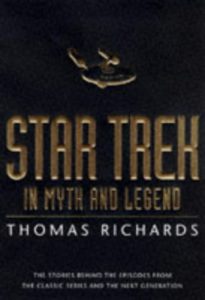 Add To Collection
Format:
Hardcover
Language:
English
Published by:
Orion
ISBN-10: 0752807994
ISBN-13: 978-0752807997
Length: 224
Published On: 1997
Buy on Amazon.com
Buy On BarnsAndNoble.com
Buy On Bookshop.com
Buy On Books-A-Million.com
Wikipedia.org
Find on E-Bay
In a serious but rippingly entertaining study, Richards boldly goes where no literary theorist has gone before, only slightly defensively as he suggests that Star Trek is as legitimate a text as–well, he stops short of saying "Shakespeare." He explores character and narrative in the original series and its TV and movie spawn, teasing enormously intriguing ideas from them. Star Trek, he proposes, is comedic in form. Viewers are always certain that wounds will be healed and ruptures sutured before an episode ends. Yet the series presumes that each crew member is essentially alone; the layout of the ship, wherein no one seems to be another's next-door neighbor, bespeaks the essential isolation of the individual. This individualism is most threatened by the collective mind of the Borg, a fearsome cyborg-army that also threatens the series' emphasis on human physicality, according to which other races may have strange brows and ears and skin but always walk upright and occur in two sexes. One of the best recent Star Trek books and also one of the most cogent, exciting recent literary analyses.
Notes
UK version is named "Star Trek in Myths and Legends"
Other Editions: