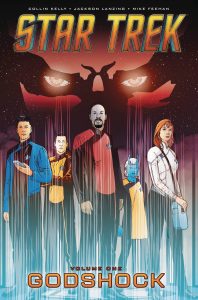 Add To Collection
Format:
Comic Book (Hardcover)
Language:
English
Published by:
IDW Publishing
Diamond Distributing Code:
MAY231407
Published On: 2023-07-19
MSRP: $24.99 USD
Buy on Amazon.com
Find on E-Bay
Deep Space Nine captain Benjamin Sisko returns in a new ongoing series featuring fan-favorite characters from across the Star Trek universe! Stardate 2378: Three years ago, Benjamin Sisko made a courageous sacrifice that left him trapped in the dimension of the mysterious Prophets; now he's returned to his home universe-with powerful, godlike abilities. But his omnipotence is failing when he needs it most. Someone is killing the gods, and Sisko and the crew of the U.S.S. Theseus will have to travel to the deepest parts of space to stop them. Collects issues #1-6 of the ongoing series.