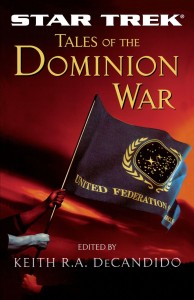 by:
Cliff Nielsen
,
John Blackford


Add To Collection
Format:
Paperback
Language:
English
Published by:
Pocket Books
ISBN-10: 0743491718
ISBN-13: 978-0743491716
Length: 384
Published On: 2004-08-03
Buy on Amazon.com
Buy On BarnsAndNoble.com
Buy On Bookshop.com
Buy On Books-A-Million.com
Wikipedia.org
Find on E-Bay
For two seasons, Star Trek: Deep Space Nine chronicled the intense struggle of the Federation, fighting alongside the Klingons and the Romulans against the overwhelming forces of the Dominion in some of the most exciting hours of television ever produced.
Now, for the first time, see how the Dominion War affected the entirety of the Star Trek universe. From the heart of the Federation to the bridge of the Starship Enterprise. From the front lines of Klingon space to the darkest recesses of the Romulan Empire. From the heroic members of the Starfleet Corps of Engineers to the former crew of the U.S.S. Stargazer. From the edge of the New Frontier to the corridors of station Deep Space.
Some of the finest Star Trek novelists have been gathered to provide a dozen new tales from this seminal period in galactic history. Heroes from three generations — Sisko, Picard, Spock, Kira, Calhoun, Klag, McCoy, Gold, and so many more — brought together in these…
Notes
The short story "Night of the Vulture" serves as a sequel to the TOS episode "Day of the Dove."