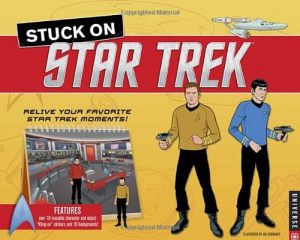 Format:
Paperback
Language:
English
Published by:
Universe
ISBN-10: 0789324768
ISBN-13: 978-0789324764
Length: 10
Published On: 2013-02-26
Buy on Amazon.com
Buy On BarnsAndNoble.com
Buy On Bookshop.com
Buy On Books-A-Million.com
Wikipedia.org
Find on E-Bay
An interactive and imaginative way to experience the Star Trek universe using the magic of "Kling-on" pieces. Few television series have had as big an impact on popular culture as Gene Roddenberry's Star Trek. Now Trekkies and fans of all ages can set their phasers to fun as they reenact their favorite scenes from the original Star Trek universe—or create new, uncharted scenarios! Stuck on Star Trek features ten original and instantly recognizable scenes including the Enterprises's bridge, sick bay, the cantina, the transporter and engine rooms, private quarters, as well as alien environments, which set the stage for more than thirty reusable "Kling-on" stickers featuring everyone's favorite Starfleet crew: Captain Kirk, Mr. Spock, Bones, Uhura, Sulu, Scotty, Chekov, Nurse Chapel, their Klingon and Romulan adversaries, the always-doomed Generic Red Shirt Guy, as well as phasers, communicators, universal translators, ships, speech and thought bubbles, costumes, and Tribbles. Lots of Tribbles. With wire-o pages and a foldout stand for easy display, and play, in a cubicle or on any surface, fans can reenact Kirk and Uhura's groundbreaking kiss, Spock's use of the Vulcan Death Grip, or beam the crew (except for Generic Red Shirt Guy) up from a hostile and unfriendly planet. Fun, interactive, and portable, Stuck on Star Trek allows every fan to boldly go where no man has gone before.