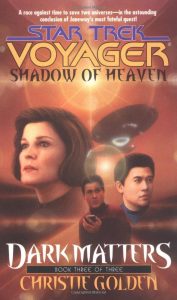 Add To Collection
Format:
Paperback
Language:
English
Published by:
Pocket Books
ISBN-10: 0671035843
ISBN-13: 978-0671035846
Length: 261
Published On: 2000-12-01
Buy on Amazon.com
Buy On BarnsAndNoble.com
Buy On Bookshop.com
Buy On Books-A-Million.com
Wikipedia.org
Find on E-Bay
An imbalance of dark matter has placed two realities in jeopardy, causing the separate universes to merge and threatening the stability of both realms. To preserve reality as it is known, the crew of the U.S.S. Voyager must defy a cosmic conspiracy and wrestle with shadows of the darkest degree!
"Rescued" by strangers who may prove to be more dangerous than his original captors, Chakotay struggles to convince his new hosts of the danger posed by the mutated dark matter — and the killer, or killers, still hunting the villages where Tom Paris has been left behind. In their own reality, as Harry Kim loses his heart to an enigmatic visitor from the shadow universe, Captain Janeway and the rest of her crew continue their search for the hidden dark matter that could cause the entire cosmos to contract in a fatal convulsion. But whose side are the Romulans really on? And what surprising figure from Voyager's past holds the ultimate key to the fate of both universes?