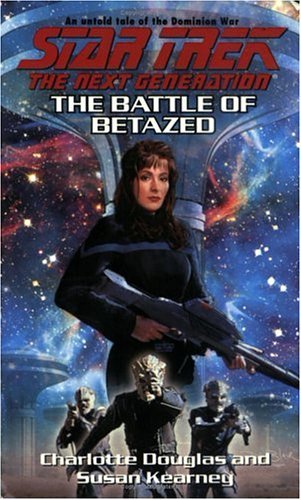 Add To Collection
Format:
Paperback
Cover by:
Dru Blair
Language:
English
Published by:
Pocket Books
ISBN-10: 074343434X
ISBN-13: 978-0743434348
Length: 304
Published On: 2002-04-02
Buy on Amazon.com
Buy On BarnsAndNoble.com
Buy On Bookshop.com
Buy On Books-A-Million.com
Wikipedia.org
Find on E-Bay
A breathtaking novel of suspense and action in which Deanna Troi risks all to save her home planet from the forces of the Dominion. As the war between the Dominion and the Federation rages across the Alpha Quadrant, Counselor Deanna Troi finds she is faced with more than she expected when she kidnaps a telepathic killer to bring to the aid of the resistance movement on the occupied planet of Betazed. At the same time, the Enterprise-E is leading a Starfleet attack against a Cardassian space station is orbit above the skies of Betazed. Dominion scientists are using the Betazed people as raw material in their experiments to create a more highly evolved Jem'Hadar — the genetically engineered warrior species which forms the core of the Dominion forces. What transpires is an awesome battle — including hostages and narrow escapes — with unexpected twists which lead to a truly explosive ending.
Sources