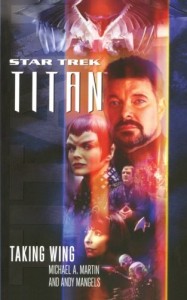 Add To Collection
Format:
Paperback
Cover by:
John Vairo Jr.
Language:
English
Published by:
Pocket Books
ISBN-10: 0743496272
ISBN-13: 978-0743496278
Length: 384
Published On: 2005-03-29
Buy on Amazon.com
Buy On BarnsAndNoble.com
Buy On Bookshop.com
Buy On Books-A-Million.com
Wikipedia.org
Find on E-Bay
After almost a decade of strife against foes such as the Borg, the Cardassians, the Klingons, and the Dominion, the United Federation of Planets is at the dawn of a new era. Starfleet is renewing its mission of peaceful exploration, diplomacy, and the expansion of knowledge. Among the starships spearheading that endeavor is the U.S.S. Titan, commanded by Captain William T. Riker and manned by the most biologically varied and culturally diverse crew in Starfleet history.
But their mission does not begin according to plan.
In the wake of Star Trek Nemesis, Praetor Shinzon, slayer of the Romulan Senate, is dead. The power vacuum created by his demise has put the Romulan Star Empire, longtime adversary of the Federation, at the brink of civil war. Competing factions now vie for control of their fragmenting civilization, and if the empire should fall, that entire area of the galaxy may destabilize.
To restore order to the region, Titan 's long-anticipated mission of exploration is delayed as Starfleet assigns Riker to set up power-sharing talks among the Romulan factions. But even as the first tentative steps are taken toward building a new Romulus, the remnants of the Tal Shiar, the dreaded Romulan intelligence service, are regrouping behind the scenes for a power play of their own. With no other help available, Riker and the Titan crew become the last hope to prevent the quadrant from falling into chaos.
Reviews
Sources