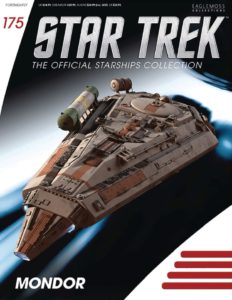 Add To Collection
Format:
Magazine
Language:
English
Published by:
EagleMoss Collections
ISBN-10: n/a
ISBN-13: n/a
Published On: 2020-04-07
MSRP: $24.99
Buy on Amazon.com
Buy On BarnsAndNoble.com
Buy On Bookshop.com
Buy On Books-A-Million.com
Wikipedia.org
Find on E-Bay
Don't be fooled by the appearance of this Mordor Ship from our Star Trek Official Starship Collection that was featured in the Star Trek: The Next Generation episode "Samaritan Snare".
Mondor Ship was a basic sublight vessel used by the Pakleds in the 2360s. Despite its clunky, ungainly appearance, it was a heavily modified transport vessel, with systems from Jarada, Romulan, and Klingon ships. Though seemingly harmless, the Pakleds were masters of deceptions and managed to kidnap Geordi La Forge who would upgrade their ship.
This Mondor Ship has been painstakingly recreated in die-cast and high-quality ABS materials then handpainted with an incredible level of detail. The model perfectly captures the triangular antiquated design of the ship that was later reused for several more times.
Sources