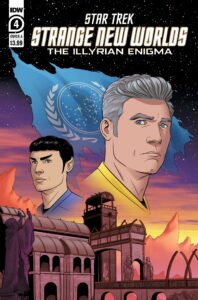 Cover A


Add To Collection
Format:
Comic Book (Single Issue)
Cover by:
Megan Levens
Language:
English
Published by:
IDW Publishing
Diamond Distributing Code:
JAN231633
Published On: 2023-03-29
MSRP: $3.99 USD
Buy on Amazon.com
Find on E-Bay
The crew of the Enterprise sets course for Vulcan to procure evidence that will exonerate their commander of Starfleet's charges. But what they learn about Number One's species, the Illyrians, calls everything into question. Don't miss the exhilarating finale of the tie-in to the hit Paramount+ series Strange New Worlds!
Reviews
Other Editions: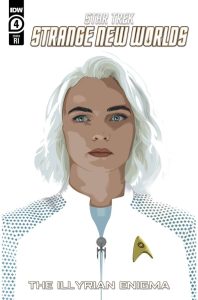 Cover C 1:10 Mark Alvarado Incentive Variant


Add To Collection
Format:
Comic Book (Single Issue)
Cover by:
Mark Alvarado
Language:
English
Published by:
IDW Publishing
Published On: 2023-03-29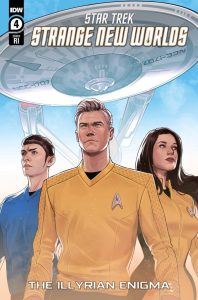 Cover D 1:25 Rachel Stott Incentive Variant


Add To Collection
Format:
Comic Book (Single Issue)
Cover by:
Rachael Stott
Language:
English
Published by:
IDW Publishing
Published On: 2023-03-29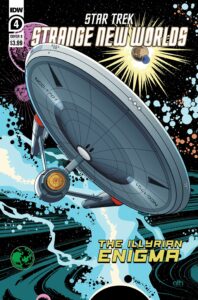 Cover B


Add To Collection
Format:
Comic Book (Single Issue)
Cover by:
Aaron Harvey
Language:
English
Published by:
IDW Publishing
Diamond Distributing Code:
JAN231634
Published On: 2023-03-29
MSRP: $3.99 USD