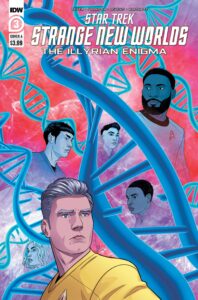 Cover A


Add To Collection
Format:
Comic Book (Single Issue)
Cover by:
Megan Levens
Language:
English
Published by:
IDW Publishing
Diamond Distributing Code:
DEC221430
Published On: 2023-02-22
MSRP: $3.99 USD
Buy on Amazon.com
Find on E-Bay
Captain Pike and the crew of the Enterprise delve deeper into the mystery surrounding the Illyrians! With the fate of Number One at stake, a secret is revealed that will shake the Federation to its core! Don't miss this all-new series set between seasons one and two of the hit Paramount+ series Strange New Worlds!
Other Editions: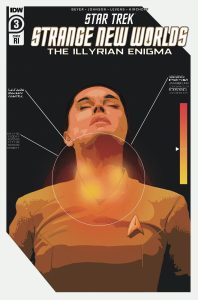 Add To Collection
Format:
Comic Book (Single Issue)
Cover by:
Mark Alvarado
Language:
English
Published by:
IDW Publishing
On The Cover:
MSRP: $3.99 USD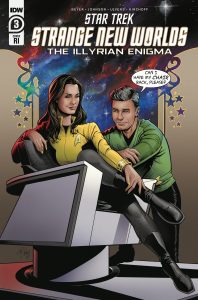 Add To Collection
Format:
Comic Book (Single Issue)
Cover by:
Andy Price
Language:
English
Published by:
IDW Publishing
On The Cover:
MSRP: $3.99 USD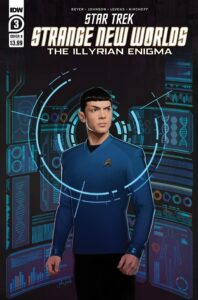 Cover B


Add To Collection
Format:
Comic Book (Single Issue)
Cover by:
Jake Bartok
Language:
English
Published by:
IDW Publishing
Diamond Distributing Code:
DEC221431
Published On: 2023-02-22
MSRP: $3.99 USD