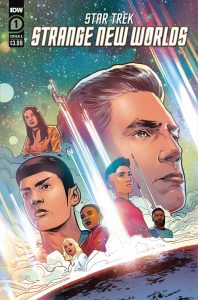 Cover A


Add To Collection
Format:
Comic Book (Single Issue)
Cover by:
Angel Hernandez
Language:
English
Published by:
IDW Publishing
Diamond Distributing Code:
JUN231470
Published On: 2023-08-23
MSRP: $3.99 USD
Buy on Amazon.com
Find on E-Bay
Come back to Strange New Worlds with a never-before-seen adventure of the hit Paramount+ show! Set course with Captain Pike and the crew of the U.S.S. Enterprise to the Scorpius constellation! As they venture into the unknown, the Enterprise crew learn what it truly means to traverse through the strange and unfamiliar when they lose contact with Starfleet and find themselves trapped in unexplored space!
Other Editions: