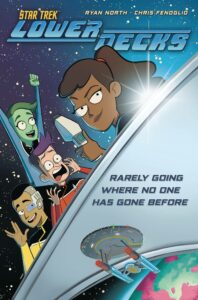 by:
Chris Fenoglio


Add To Collection
Format:
Comic Book (TPB)
Language:
English
Published by:
IDW Publishing
Diamond Distributing Code:
DEC221425
ISBN-10: 1684059623
ISBN-13: 978-1684059621
Length: 120
Published On: 2023-05-03
MSRP: $19.99
Buy on Amazon.com
Buy On BarnsAndNoble.com
Buy On Bookshop.com
Buy On Books-A-Million.com
Wikipedia.org
Find on E-Bay
Ensign, report to the bridge! Board the U.S.S. Cerritos for a mission to the enigmatic Qvanti system as the hit Paramount+ animated series comes to comics! Captain Carol Freeman leads her crew on an expedition aimed to build bridges and advance Federation technology, but she and the away team quickly suspect that the planet and its people are not all what they seem… Meanwhile, the crew in the lower decks take to the holodeck for some much-needed recreational time-until a bloodthirsty visitor decides to join in on their games. Can Boimler, Mariner, Tendi, and Rutherford save the ship from the likes of Dracula?
Other Editions: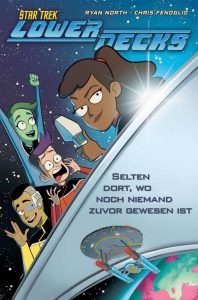 Add To Collection
Format:
Comic Book (TPB)
Language:
German
Published by:
Cross Cult
ISBN-13: 978-3-98666-266-0
Length: 96
Published On: 2023-08-14
MSRP: $18,00 €