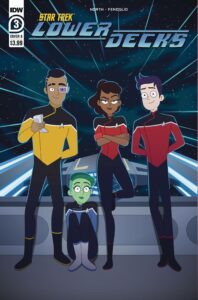 Cover B


Add To Collection
Format:
Comic Book (Single Issue)
Cover by:
Robby Cook
Language:
English
Published by:
IDW Publishing
Diamond Distributing Code:
SEP221717
Published On: 2022-11-09
MSRP: $$6.99 USD
Buy on Amazon.com
Find on E-Bay
With the Cerritos under attack and Captain Freeman's away team accused of violating Starfleet's most upheld principle, can the crew prove their innocence? Or will they end up one of Dracula's infamous Draquiri cocktails? Beam aboard and witness the thrilling finale to the exclusive hit Paramount+ animated series tie-in!
Reviews
Other Editions: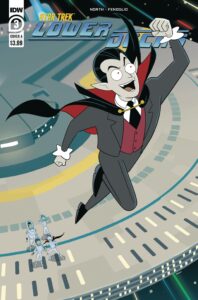 Cover A


Add To Collection
Format:
Comic Book (Single Issue)
Cover by:
Chris Fenoglio
Language:
English
Published by:
IDW Publishing
Diamond Distributing Code:
SEP221716
Published On: 2022-11-09
MSRP: $$6.99 USD