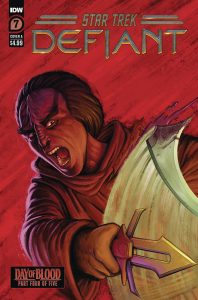 Cover A by:
Malachi Ward


Add To Collection
Format:
Comic Book (Single Issue)
Language:
English
Published by:
IDW Publishing
Diamond Distributing Code:
JUN231463
Published On: 2023-09-06
MSRP: $4.99 USD
Buy on Amazon.com
Find on E-Bay
"Day of Blood," Chapter Four. Thousands of years ago, Kahless the Unforgettable led his people to glory and raised an empire of honor. But his clone, Kahless II, has gone too far, murdering innocents in cold blood and hungering for power that can no longer be sated by Qo'noS and the Klingon people. He now stands alongside Alexander in front of Worf and Sisko, pitting father and son against each other and making a mockery of the Bajoran Prophets and their emissary. Meanwhile, the power of the Orb of Destruction surges from his ship above. Can Kahless be stopped, or will he once again prove to be the greatest warrior of them all? Find out in the penultimate chapter of the crossover between Star Trek and Star Trek: Defiant!
Previews
Reviews
Other Editions: