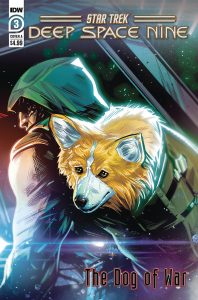 by:
Angel Hernandez


Add To Collection
Format:
Comic Book (Single Issue)
Language:
English
Published by:
IDW Publishing
Diamond Distributing Code:
MAR231644
Published On: 2023-06-07
MSRP: $4.99 USD
Buy on Amazon.com
Find on E-Bay
The Deep Space 9 crew throw a farewell party worth a corgi's weight in latinum! But just as they prepare to send off Latty, they are met with the screaming siren sounds of a security breach, and not only is the prized corgi nowhere to be found the Borg headset is missing as well. Now the crew must put their heads together to retrieve their pup and keep the tech out of enemy hands!
Other Editions: