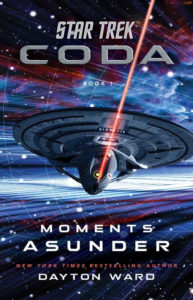 by:
Stefan Martiniere


Add To Collection
Format:
Paperback
Language:
English
Published by:
Pocket Books
On The Cover:
ISBN-13: 978-1982158521
Length: 368
Published On: 2021-09-28
MSRP: $14.49
Buy on Amazon.com
Buy On BarnsAndNoble.com
Buy On Bookshop.com
Buy On Books-A-Million.com
Wikipedia.org
Find on E-Bay
STARFLEET'S FINEST
FACES A CHALLENGE UNLIKE ANY OTHER
TOMORROW IS DOOMED
Time is coming apart. Countless alternate and parallel realities are
under attack, weakening and collapsing from relentless onslaught. If left
unchecked, the universe faces an unstoppable descent toward entropy.
WANDERER, ORACLE, ALLY
Scarred and broken after decades spent tracking this escalating
temporal disaster while battling the nameless enemy responsible for it,
an old friend seeks assistance from Captain Jean-Luc Picard and the crew
of the Starship Enterprise. The apocalypse may originate from their
future, but might the cause lie in their past?
EVERYTHING THAT WILL BE
Identifying their adversary is but the first step toward defeating them, but
early triumphs come with dreadful costs. What will the price be to achieve
final victory, and how will that success be measured in futures as yet undefined?
MOMENTS ASUNDER
Other Editions: