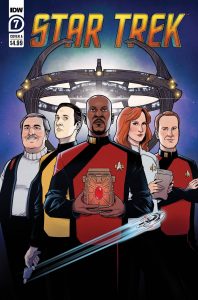 Cover A


Add To Collection
Format:
Comic Book (Single Issue)
Cover by:
Mike Feehan
Language:
English
Published by:
IDW Publishing
Published On: 2023-04-26
MSRP: $4.99 USD
Buy on Amazon.com
Find on E-Bay
Continuing Benjamin Sisko's quest to stop celestial genocide in "The Red Path," the second arc of the critically acclaimed Star Trek flagship comic series continues! Sisko returns to Deep Space 9, and it's the family reunion we've all been waiting for-or is it? Meanwhile, the crew of the U.S.S. Theseus meet a familiar face from Paramount+ hit show Lower Decks.
Reviews
Other Editions: