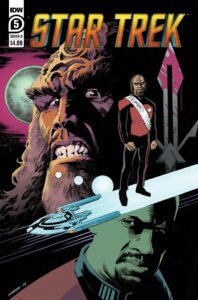 Add To Collection
Format:
Comic Book (Single Issue)
Cover by:
Eoin Marron
Language:
English
Published by:
IDW Publishing
Diamond Distributing Code:
DEC221412
Published On: 2023-03-15
MSRP: $4.99 USD
Buy on Amazon.com
Find on E-Bay
A fight for the fate of the universe has broken out in the God City. Up against an enemy ship that easily cracks the Theseus' shields, the crew staves off enemy interlopers while the Orb of Destruction powers up with the Theseus in its scope. Already facing the impossible, the crew makes a shocking discovery that tests their faith in the mission and each other.
Other Editions: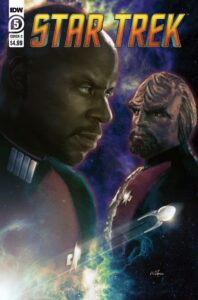 Add To Collection
Format:
Comic Book (Single Issue)
Cover by:
Louie De Martinis
Language:
English
Published by:
IDW Publishing
Diamond Distributing Code:
DEC221413
Published On: 2023-03-15
MSRP: $4.99 USD