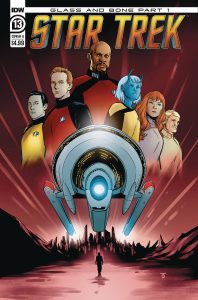 Cover A


Add To Collection
Format:
Comic Book (Single Issue)
Language:
English
Published by:
IDW Publishing
Diamond Distributing Code:
AUG231382
Published On: 2023-10-25
MSRP: $4.99 USD
Buy on Amazon.com
Find on E-Bay
Captain Benjamin Sisko's quest to defeat the killer of gods is at an end, and the Prophets beckon him home to the Celestial Temple. He's earned his rest, but when Starfleet requests his help to stop a familiar foe, the Tzenkethi Coalition, from launching the largest fleet in their history, Sisko and the Theseus' crew set out once again to save the galaxy. But there's a reason this species of spiritually rich, reptilian lizard birds has twice defeated Starfleet in battle. They're xenophobic, ruthless, and innovative… and confronting them on their home turf, a planet thought to be an organism itself, is as good a death sentence as any.
Other Editions: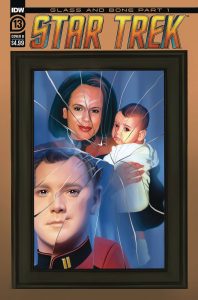 Cover B by:
Steffi Hochreigl


Add To Collection
Format:
Comic Book (Single Issue)
Language:
English
Published by:
IDW Publishing
Diamond Distributing Code:
AUG231383
Published On: 2023-10-25
MSRP: $4.99 USD