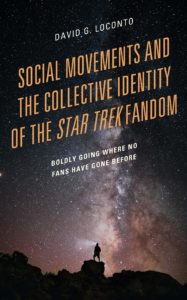 Add To Collection
Format:
Hardcover
Cover by:
n/a
Language:
English
Published by:
Lexington Books
On The Cover:
ISBN-13: 978-1793607003
Length: 250
Published On: 2020-03-15
MSRP: $95.00
Buy on Amazon.com
Buy On BarnsAndNoble.com
Buy On Bookshop.com
Buy On Books-A-Million.com
Wikipedia.org
Find on E-Bay
Since it first aired in 1966, Star Trek led American television into a more progressive era by presenting a diverse cast interacting as equals, demonstrating expertise and efficiency as they lead a starship across the galaxy. To this day, the Star Trek franchise strives to inspire viewers to find beauty in diversity and progress. In Social Movements and the Collective Identity of the Star Trek Fandom: Boldly Going Where No Fans Have Gone Before, David G. LoConto explores the development of the Star Trek fandom from its tough beginnings in the 1960s to its popularity explosion in the 1990s and its triumphant return in 2017. LoConto analyzes the cultural phenomena of Star Trek through a social psychological approach, using symbolic interaction theory and strategic ritualization theory as well as ideas from Habermas and Foucault to track the fandom's movements, values, and evolution.