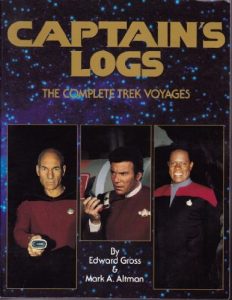 Add To Collection
Format:
Paperback
Cover by:
n/a
Language:
English
Published by:
Boxtree Ltd
On The Cover:
ISBN-13: 978-1852838997
Length: 269
Published On: 1993-01-01
Buy on Amazon.com
Buy On BarnsAndNoble.com
Buy On Bookshop.com
Buy On Books-A-Million.com
Wikipedia.org
Find on E-Bay
Your complete guide to the 23rd and 24th centuries… Captain's Logs, the ultimate Trek guidebook from classic to Deep Space
Never before could you find the 23rd and 24th centuries under one cover. For the first time in one volume a complete episode guide from Classic Trek's "The Man Trap" to Deep Space's "Emissary," brought to you by Edward Gross and Mark A. Altman who USA Today referred to as the leading authority on Trek.
You'll find copious information and trivia regarding every episode from the creators themselves in their own words. Explore the voyages of the Trek casts through television, the movies, the Next Generation, and the crew manning the space station on the deepest fringes of the final frontier. Featuring the animated series and the mysterious lost voyages, which include the controversial prequel, Starfleet Academy, and the last episode Gene Roddenberry ever wrote, "Ferengi Gold."
Included in this volume are: William Shatner, Patrick Stewart, Avery Brooks, Leonard Nimoy, Brent Spiner, Rene Auberjonois, DeForest Kelley, Gates McFadden, Siddig El Fadil, Gene Roddenberry, Rick Berman, Fred Freiberger, Maurice Hurley, Marina Sirtis, Harve Bennett, Terry Farrell, Jeri Taylor, Les Landau, Nana Visitor, Susan Sackett, William Campbell, Ira Steven Behr, Armin Shimerman, Michelle Forbes, John D.F. Black, Hannah Louise Shearer, Rob Bowman, Cliff Bole, Tracy Torme, Jennifer Hetrick, John de Lancie, Corey Allen, Paul Lynch, David Carson, Melinda Snodgrass, Herb Wright, David Gerrold, D.C. Fontana, Winrich Kolbe, Michael Westmore, Rob Legato, Herman Zimmerman, Ron Moore and many, many more.
This is the complete Trek saga in one invaluable log book.