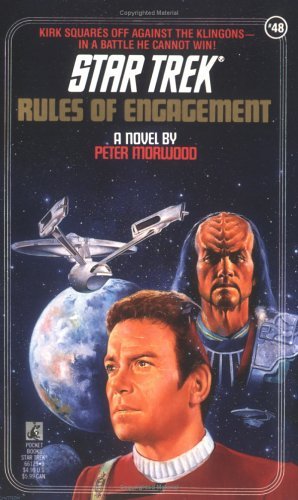 Deep Space Spines has a review up for Peter Morwood's "Star Trek: 48 Rules Of Engagement":
This week, we're checking out Rules of Engagement, the little sitcom that could. Starring Patrick Warburton, Megyn Price, and David Spade, the show followed a group of friends in various stages of relationships: two of them newlyweds, two a veteran married couple, and one a swinging single. It lasted seven seasons, an impressive feat given its unremarkable ratings and several brushes with cancellation, and is widely considered solid, if far from innovative. Most notably, it stands as one of Sony's few successes in syndication; although barely accruing enough episodes to qualify, it nevertheless managed, thus ensuring long-term profitability for—

Wait a minute. This is supposed to be about the Star Trek novel Rules of Engagement. My bad.
Buy on Amazon.com
Buy On Books-A-Million.com
Buy On Book Depository.com
Find on E-Bay