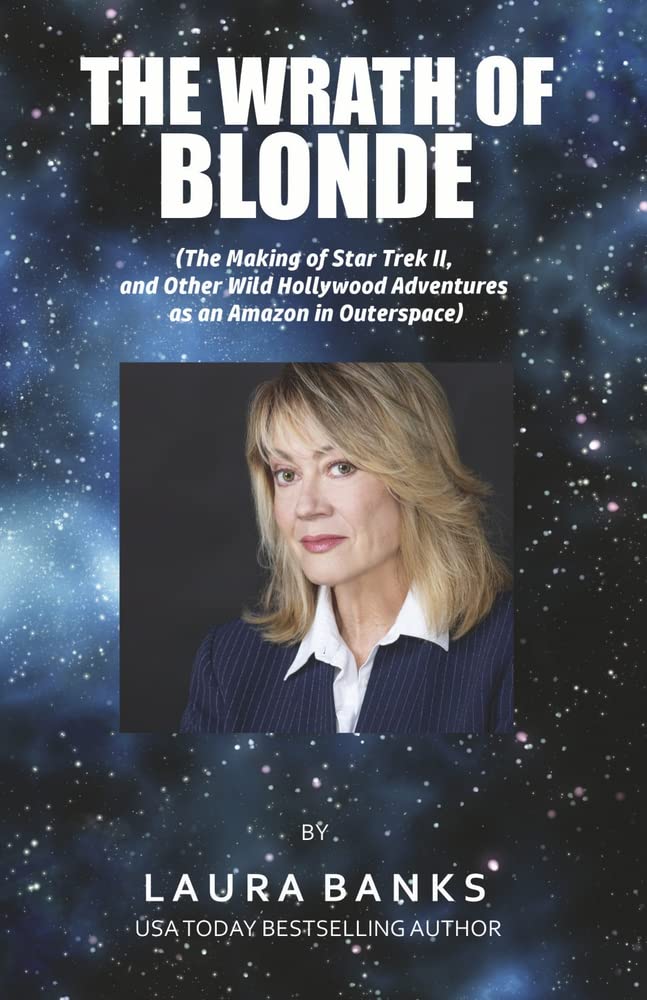 Out today is another Memorial Books book, titled "The Wrath of Blonde: (The Making of Star Trek II, and Other Wild Hollywood Adventures as an Amazon in Outerspace)", by Laura Banks.
Laura Banks is a triple threat to herself and others as a comedy writer, stand-up and four-time author, with her USA Today Bestseller, "Breaking the Rules" selling a quarter of a million copies. Laura got her first acting break in "Star Trek II: The Wrath of Khan". TV appearances as an author/personality include ABC World News, SyFy, Prime, Netflix, Comedy Central, USA Network, Fox News, MSNBC, Gooday LA, Gooday New York, TYRA, VH-1, and the Rosie O'Donnell Show. Laura started out as an improv player in Spontaneous Combustion comedy troupe with Whoopi Goldberg at the Comedy Stores in LA and San Diego. She then got her first break in Star Trek II, The Wrath of Khan (Paramount) and was then discovered by world-famous indie producer Roger Corman, to star in a series of B-films. Then back to the stage as a standup at The Original Improvisation (NYC) for three years, and then host of Inside Space (SYFY Channel) with lots more TV appearances with two books with Janette Barber on ABC World News, MSNBC and Fox News. Laura also hosted the podcast Love Online (Toginet) with Susan Winter from the Huffington Post and Star Gal Radio on traditional radio (CRN Digital Talk). For a decade she produced and voiced comedy segments with Dick Clark's United Stations Radio Networks and was the voice of the NBA.

Book Review: "Laura Banks delightful and cheeky new memoir, "The Wrath of Blonde", is a humorous, self-deprecating and emotionally honest story of her brush with fame while piloting the Reliant in "Star Trek II, the Wrath of Khan", almost getting blown up in the jungles of the Philippines for Roger Corman, striking out with Warren Beatty and failing to fall under the hypnotic, Svengali-like spell of Jack Nicholson among others, including a short-lived, but torrid romance with the Enterprise's charismatic skipper himself. Banks's Hollywood story as she navigates the pinnacles and pitfalls of showbiz regales her readers in this fun, breezy read. – Mark A. Altman (writer/producer, Free Enterprise; showrunner, Pandora; host, Inglorious Treksperts)

Her latest memoir The Wrath of Blonde chronicles surviving a dysfunctional childhood and suicidal death of her brother to moving on to star in films for Roger Corman which she shot in southeast Asia and almost died in the process. She then died repeatedly as a stand-up comic before becoming a regular at the biggest clubs in the U.S., including The Improvisation and Comedy Cellar in New York City, and now she brings her humor to her wild experiences in Hollywood, all the while navigating a way back to self-love, beyond her own demons, depression, and desperation. She helps others embrace their addictions and still shoot for the moon with her astrological system using the actual heavenly planets in the universe!
Buy on Amazon.com
Buy On Books-A-Million.com

Buy On Book Depository.com

Find on E-Bay