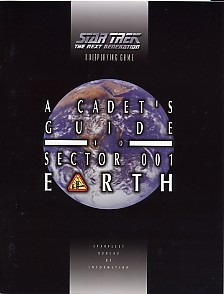 Format:
Paperback
Language:
English
Published by:
Last Unicorn Games
ISBN-10: 067104009X
Length: 32
Published On: 1999-01-01
Buy on Amazon.com
Find on E-Bay
Part of the Starfleet Academy Box Set which contains:
• Book One: The Academy Handbook
• Book Two: Narrator's Guide
• Book Three: The Cadet's Guide to Sector 001
• 2 double-sided poster maps
• facsimile Certification of Degree document
"The soul of Starfleet resides in the academy… where young beings from many worlds are educated and trained to take up their roles in the vast organization that is Starfleet. From across the Federation they come, entranced by a sense of discovery, attracted by the challenge, drawn to the promise of adventure. Here, cadets learn the meaning of the words Honor, Truth, Duty. In the end, they earn the right to call themselves Starfleet officers — the finest men and women known to history. Now you can enter the Academy and experience for yourself what it takes to become a member of the Federation's elite cadre."
Book Three: The Cadet's Guide to Sector 001
Detailed description of the Sol system from Pluto Station and the Academy Flight Range to the Martian colonies and New Berlin.
Details of Earth, where your cadet will live and work for four years. Drop by Chez Sandrine for a drink, or Sisko's Creole Kitchen for some etouffee (or tube grups). Take in the sights of San Francisco, London, Paris, and Sydney (to name a few).