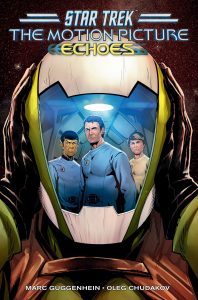 Add To Collection
Format:
Comic Book (TPB)
Language:
English
Published by:
IDW Publishing
Diamond Distributing Code:
979-8887240763
Length: 128
Published On: 2024-03-26
MSRP: $19.99 USD
Buy on Amazon.com
Find on E-Bay
Join Captain Kirk and the crew of the U.S.S. Enterprise in this never-before-seen adventure spinning out of the Original Series!
When a space anomaly thrusts a bounty hunter and her target—a criminal mastermind—into their universe, it's up to Kirk and his crew to stop them from unintentionally starting a war with the Romulans and unleashing a superweapon of foreign tech onto the system. But the strangers from another universe are more familiar than they assume…for underneath their helmets are their doppelgängers—from an alternate reality!
From critically acclaimed screenwriter, producer, and comics writer Marc Guggenheim (Arrow; DC's Legends of Tomorrow; Star Wars: Han Solo and Chewbacca) and artist Oleg Chudakov comes this brand new mini-series!