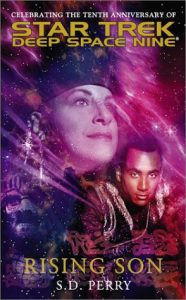 by:
Cliff Nielsen


Add To Collection
Format:
Paperback
Language:
English
Published by:
Pocket Books
ISBN-10: 0743448383
ISBN-13: 978-0743448383
Length: 336
Published On: 2002-12-31
Buy on Amazon.com
Buy On BarnsAndNoble.com
Buy On Bookshop.com
Buy On Books-A-Million.com
Wikipedia.org
Find on E-Bay
A prophecy leads Jake Sisko on a desperate search for his missing father. Instead, what he finds at his journey's end is totally unexpected…In the climactic closing episode of the final season of Star Trek: Deep Space Nine, Captain Benjamin Sisko, his destiny inextricably linked to that of the alien entities known as The Prophets, was last seen plunging into the depths of the Bajoran Fire Caves, locked in combat with Gul Dukat. Although he appeared to his new wife Kasady Yates and promised her that he would one day return, his son Jake has not seen him since. In Deep Space Nine: Avatar, a mysterious prophecy sent Jake on an impossible quest to trace his missing father. However, instead of finding his heart's desire, Jake is thrown across the galaxy and saved by the unexpected intervention of a strange ship with an even stranger crew. Sharing their travels and their dangers, he learns important lessons about dealing with his father's loss, and about the truth of the prophecy that sent him here. In the process, he discovers much more than he anticipated; a revelation that will change the world forever for Jake, for Bajor and for Deep Space Nine.