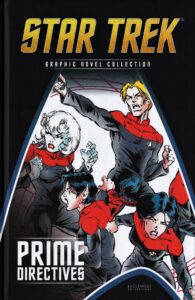 Add To Collection
Format:
Comic Book (Hardcover)
Language:
English
Published by:
EagleMoss Collections
Published On: 2020-04-09
Buy on Amazon.com
Find on E-Bay
Before IDW published its Kelvin-timeline Starfleet Academy series, Marvel Comics had unveiled its own ongoing comic about Starfleet's recruits. In 1996, Marvel did something unexpected when it gave Deep Space Nine's Nog his own ongoing comic. The Ferengi had enrolled in Starfleet on the TV show, and the publisher showed what happened to him once he arrived.
This volume collects issues #1-5 of Marvel's acclaimed Starfleet Academy title. The series, written by Chris Cooper, introduced Omega Squad, led by the great-grandson of disgraced Commodore Matt Decker.