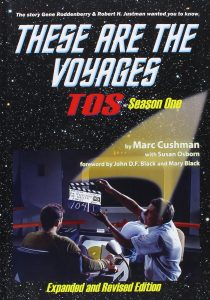 Add To Collection
Format:
Paperback
Language:
English
Published by:
Jacobs Brown Press
ISBN-10: 0989238121
ISBN-13: 978-0989238120
Length: 668
Published On: 2013-11-15
Buy on Amazon.com
Buy On BarnsAndNoble.com
Buy On Bookshop.com
Buy On Books-A-Million.com
Wikipedia.org
Find on E-Bay
These are the Voyages: TOS, Season One contains hundreds of previously unpublished insights and recollections from actors, directors, producers, and production crew, capturing what went on from every perspective, including memos dictated by Roddenberry while reading drafts to the series scripts. The book offers a unique look behind-the-scenes in the form of original staff memos, contracts, schedules, budgets, network correspondence, and the censor reports from NBC.
These are the Voyages creates the opportunity for readers to transport themselves back in space and time to witness the true history of Season One of Star Trek: TOS.
Go behind the closed doors of NBC, Desilu/Paramount, the producers' offices, the writers' room, the sound stages and shooting locations, and learn the actual facts behind all the blood, sweat, tears, politics, and spellbinding creativity that brought Star Trek into being…and changed the Sci Fi world.
Reviews
Other Editions: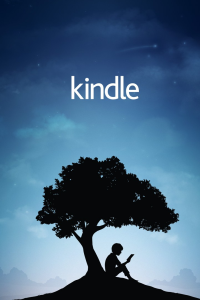 Kindle Edition
Format: Digital Download
Language: English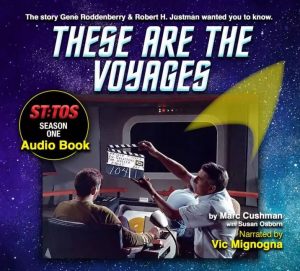 Notable guest performers include Adam Nimoy, reading the quotes and letters of his father, Leonard Nimoy, and Chris Doohan, who plays Scotty on Star Trek Continues, reading the quotes from his father, the original Lt. Commander Scott, James Doohan. Also featured, among countless others, Rod Roddenberry, son of Star Trek creator/producer Gene Roddenberry. And Ralph Senensky, D. C. Fontana, Joe D'Agosta, Clint Howard, and Craig Huxley. Vic Mignogna of the award-winning web-series Star Trek Continues is the narrator, taking you back in time to the Star Trek writers' room, production offices, and onto the sound stages to witness the making of this historic TV series.


Add To Collection
Format:
Audio Book: CD
Language:
English
Published by:
Jacob Brown Media Group
Narrated by:
Vic Mignogna
Length: 27:27:48
MSRP: $45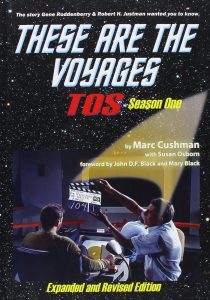 Add To Collection
Format:
Hardcover
Language:
English
Published by:
Jacob Brown Media Group
ISBN-13: 978-0989238106
Length: 658
Published On: 2013-12-30