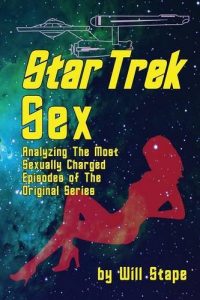 Format:
Paperback
Language:
English
Published by:
BearManor Media
On The Cover:
ISBN-13: 978-1593938628
Length: 134
Published On: 2015-09-07
Buy on Amazon.com
Buy On BarnsAndNoble.com
Buy On Bookshop.com
Buy On Books-A-Million.com
Wikipedia.org
Find on E-Bay
The Sexiest Starship Alive.
It's how People Magazine would crown the Enterprise's crew if the pop culture stalwart warped into the 23rd century. Captain Kirk's randy reputation old, intergalactic news? Thankfully, this isn't a 'How to Score' guide penned by J.T.K. It's no tell-all memoir to shock and awe, nor cosmic celebrity sex tape full of space babes. Star Trek Sex deals tastefully in the romantically loaded tales of Gene Roddenberry's landmark TV show. And though William Shatner's Kirk is a front and center player, his crew, Spock, Scotty, Uhura, McCoy, Sulu and Chekov, also get a piece of the action.
To explore strange new worlds… To seek out new life… Star Trek Sex covers the iconic classic, then warps beyond to Star Trek: Into Darkness and the hip satire of Saturday Night Live, Family Guy and the legendary Howard Stern. It highlights the sexually charged moments of Roddenberry's 'Wagon Train To The Stars' and focuses on those complex themes which helped establish Star Trek as a global Hollywood franchise.
At age 4, Will Stape watched Star Trek before he knew the difference between a phaser and a taser. He's one of a handful of freelance writers to sell to Star Trek: The Next Generation. His episode, 'Homeward', with Paul Sorvino (Goodfellas), premiered in the Emmy Award winning show's last season. A year later, he sold to Star Trek: Deep Space Nine, and his script, 'Charity', became 'Prophet Motive' with Wallace Shawn star of The Princess Bride. Stape pitched to Star Trek: Voyager, Deep Space Nine and met with writer/producer Michael Piller for Stephen King's The Dead Zone. He's developed TV show docudramas and his articles appear in Sci-Fi Pulse, Airlock Alpha, McCall's Quilter's Home, Hudson Reporter, Bayonne Style, Shine, OMG! and Yahoo! News. He's owned phasers, but never a taser.
Previews