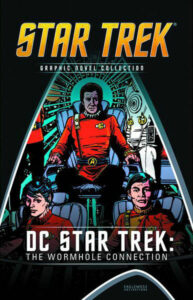 Add To Collection
Format:
Comic Book (Hardcover)
Language:
English
Published by:
EagleMoss Collections
Published On: 2018-03-01
Buy on Amazon.com
Find on E-Bay
DC's Star Trek series is considered the biggest hit of all Trek comics. Running from 1984 to 1988, these stories feature the cast of the original series. The first issue follows the events of The Wrath of Khan. James T. Kirk is granted permanent command of the U.S.S. Enterprise and the crew sets out once more to explore the Galaxy.
However, they soon run into a conflict with the Klingon captain, Koloth. In the spotlight of this collection is Lieutenant Saavik, the ship's chief navigator, who has an especially hard time accepting the death of her mentor, Spock.
Sources